Rain, Drop, Rain, Drop 
Seems it is either raining or just about to rain these days. It's been a super wet dry season and now that we are properly into the rainy season the volume and velocity of the rain is ramping up. Rainy season gives us much to ponder and quite a few challenges too! We get a lot of online orders as many of you decide to hunker in and order in. That's great. It's hard work for our drivers too who need to deliver orders in the pouring rain and make sure everything arrives in top condition. It's also hard for our farmers, who after rising to the production challenges of a wet dry season now have to protect their rainy season crops from rain damage. Imagine, it's tough! So this newsletter is first and foremost a big thanks to the farmers and to the drivers who make everything possible. It's also to say – hi there, we have some great rainy season products for you.
Flash Floods
Sometimes it is not just wet, it's dangerous too. Gillan, one of our intrepid drivers, lost his motorbike and two orders when he was caught in a flash flood on the way to Tabanan. He was rescued after hanging onto a tree. Our thanks to his firm grip, the rescue efforts of his saviour, and our team members who rushed out to pick him up.
Farming in the Rain
The driving rain means produce get damaged, that is the biggest challenge. For organic farmers it is even harder, as fungi and pests proliferate and all of them need tailored solutions rather than blanket spraying with chemicals. Our job is to help the produce fine a market and make organic production worth their while.
KropNation
KropNation are urban indoor farmers who grow high quality affordable super tasty micro-greens. Their selected leaf mixes are super tasty and give any meal a chef-quality finish. And of course they are protected from the rain. They supply their micro-greens in hard plastic that they will re-use and is part of our 1K Return Me Campaign.
Celery in the Rain
Have you noticed our amazing celery and celery juice? It's much better than the imported one, and it's organic and local. The challenge has always been that the local one is thinner and bitter. That's the good news. The bad news is that it's been badly hit by rain. But the good news is that a new batch is busily growing in the rain.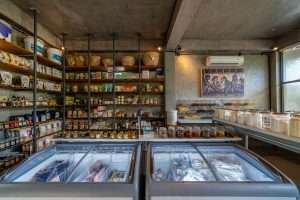 Let us keep you stocked in tea, cookies, great bakery products, soups, cheese and crackers, organic meat and more for rainy day snacking! We have some recipes that you can try out on our website. Remember that the best veggies for the rainy season are local ones! So try your hand at a moringa soup or a vegan Balinese lawar.
Feel beautiful and relax in the rain with our indulgent all natural Bali based body products, room diffusers, candles, massage oils and incense sticks. It's a sweet time to have great quality natural products and listen to rain, drop, rain, drop.